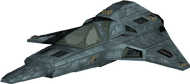 The Borderworld
Series X
"Dagger" light fighter is one of the best light fighters sold in Liberty. While being expensive, it also worths every cent paid to own it for being highly maneuverable and powerful.
The sales of Dagger is restricted to people friendly with the Outcasts and Liberty Rogues only, as the ship is sold on Buffalo Base. It is also one of the few light fighters that are equipped with a turret mount.
Description
Edit
Original Entry
Edit
It may be classified as a "light fighter" but there is nothing light about this ship. With its expanded power capacity and armor rating "The Dagger" has all of the muscle required to survive in the harsh frontier of the Border Worlds, while still being moderately priced. An excellent choice for those craving adventure.
The most expensive fighter you can buy in the Liberty Space, and you have to be friendly with the Rogues and Outcasts to buy it. However, once you do, it can quickly prove itself to be a formidable fighter.
Specification
Edit
Statistics
Edit
Gun/Turret Mounts: 4/1
Armor: 1800
Cargo Space: 35
Max Batteries/NanoBots: 15
Optimal Weapon Class: 2
Max. Weapon Class: 4
Additional Equipment: M, CM, CD
Price: 17,020 credits
Level Req. 4

Configuration
2x Class 3 Gun Mount
2x Class 4 Gun Mount
1x Class 4 turret Mount
1x Mine Mount
1x Countermeasure Mount
1x Cruise Disruptor
1x Class 4 Shield Mount
Default Shield: Advanced Sentry Graviton Shield (Class 2)
Places Sold
Edit