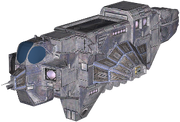 The Liberty EL-Hil27
Rhino
freighter is the freighter of choice by most corporations operating in
Liberty
space. It is a basic, but sufficient, freighter for anyone operating solely in
Liberty
space, combining a decent cargo space and low price together.
Description
Edit
Original Description
Edit
With the economic foundation of Sirius firmly built on Liberty's commercial interests, "The Rhino" certainly lives up to its name. The vast cargo hold is the hallmark of this impressive beast, surrounded by doubly reinforced structure and protective armor hull. This and the advanced weapon system make "The Rhino" a force to be reckoned with.
Statistics
Edit
Specification
Edit
Gun/Turret Mounts: 3/5
Armor: 1600
Cargo Space: 80
Max Batteries/NanoBots: 12
Optimal Weapon Class: 1
Max. Weapon Class: 3
Additional Equipment: M, CM
Price: 9,170 credits
Level Req. 1
Max. Shield Class: 3
Configuration and Mounts
Edit
Places sold
Edit